This…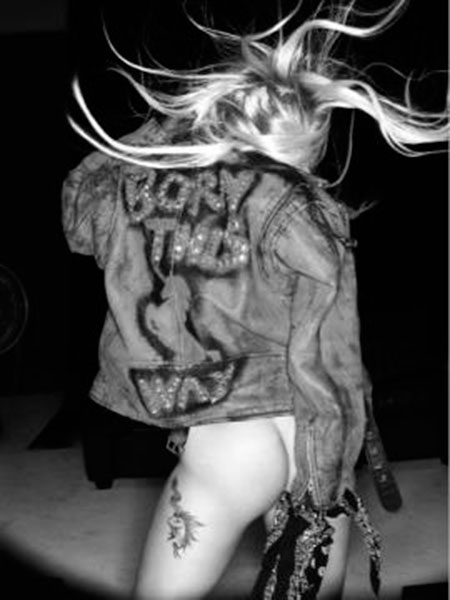 …is the first image from Lady Gaga's 'Born This Way' album campaign. You can see her bottom but you can't see her can't see her no you can't see her face.
The pho­to­graph was shot by Nick Knight (who to cut a long story short basically invented amazing pho­to­graphy) and was tweeted by Lady Gaga as 2011 rolled around this morning.

So that's just six weeks until the single (pre­sum­ably debuted at the Grammys on February 13) and perhaps there's even a second single before the album?
A. Mazing.
Eleven Things We Require From Lady Gaga In 2011

1. Album full of danceable pop hits. Maximum fourteen tracks, two ballads please. Three ballads allowed but not encour­aged (and one would need to be a spooky danceable semi-ballad like Madonna's 'Frozen' or something like that, no Mariah-esque waily stuff).
2. Hats. Many hats. Hats so numerous that some onlookers will feel moved to say there are too many. We're talking hat overload.
3. A return to the radio edit-length pop video. 'Telephone' was the perfect video for the song but the 'Alejandro' was unne­ces­sar­ily long. 'Bad Romance' was proof that videos can be events without lasting eight years and all videos from 'Born This Way' should be Proper. Ultimately breaking the rules (by, for example, putting out eight minute pop videos) only has any impact if it is occa­sional. If it's the norm, what's the point? Anyone can bend the rules, but being amazing while operating within pop's strict rules and struc­tures results in a far purer pop artefact.
4. No Christmas reissue of the album — 'Born This Way' must be the last thing we hear from Lady Gaga until her next album is released in November 2012. Partly to accom­mod­ate some sort of non-musical but still pop­cul­ture-based 'project' in March 2012, but also to allow for…
5. …proper proof that she has been on holiday and enjoyed being on holiday. By 'holiday' what we mean here is a break from work of fourteen days. This fourteen day holiday will earn Lady Gaga fourteen 'holiday points'. If exper­i­ences from this fourteen day break later come to inform or influence her style, music or generai being — by which we mean if her 'holiday' becomes 'work' — Gaga will be fined seven holiday points and will be required to replace them with another seven days' break. File this one under tough love.

6. Full range of Lady Gaga dolls. Launch in May with a range of twenty different looks, add an extra five at Christmas to accom­mod­ate the year in Gaga.
7. A clear signal that she is reacting, through her set pieces and general 'art', to what is happening to her at that point in time, rather than executing a perfectly planned assault on pop that does and/or can not alter course. More simply, when she (for example) performs the third single from 'Born This Way' on (for example) the first of X Factor USA's live shows, we want to know that the per­form­ance she puts on is something that has been conceived for and tailored towards an X Factor per­form­ance, rather than being just one of twenty per­form­ance ideas put together last October then crossed off the list once they're done.

8. More tough love: no world tour for 'Born This Way'. Yes we know revenue streams blah blah blah but the world tour for the autumn 2012 album must be a proper event. (NB: Obviously if there is a 'Born This Way' tour we are not exactly going to boycott it.)
9. A sense of per­spect­ive from fans: Lady Gaga is not, can't be and shouldn't be the past present and future of popular song and has never claimed to be. Also, endlessly measuring other acts against Lady Gaga is a futile and depress­ing exercise. In the same way that Girls Aloud had British pop in a headlock for much of the 2000s, Lady Gaga has eclipsed huge areas of planet pop for the last two years and will continue to dominate our field of vision through­out 2011 but it is perhaps most healthy to sometimes think of her as someone who operates in entirely her own sphere, somewhere different to the rest of pop. Basically, every now and again just have a think about everything else. There is some quite good other stuff too.

10. A sense of per­spect­ive from her detract­ors: Lady Gaga is not, can't be and shouldn't be the past present and future
of popular song and has never claimed to be, but you'd have a hard time con­vin­cingly arguing that she hasn't come closer than anybody else in at least the last two decades.

11. This is the big one: we want the return of The Meat Dress. Obviously it would be important for 2011's meat dress to be a step on
from last year's, but we want one further install­ment — a 'what happened
next' if nothing else. The chopfrock was voted 2010's Best Gaga Moment in the Popjustice Readers' Poll and should, we think, become an annual event in the Gaga calendar.
And there, readers, we have it.
EDIT: How do we miss this one out?
12. GLASTONBURY.