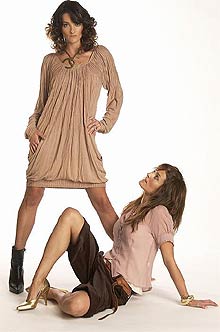 They're back!
Back!!
BACCKK!K!!111!
It's Keavy and Edele from B*Witched.
We once went to Chessington World Of Adventures with B*Witched. Things were so much more innocent in those days. It was the late 1990s, viewers, a time when you could get to Number One with just some com­pletely undis­tressed denim and the ability to jump about in front of a green screen while trilling such gems as:
"I got a house with windows and doors."
"Some people say I look like me dad."
"Mummy always wants you to come for tea."
"I'll show you mine if you show me yours."
They were happy days. Where did it all go wrong?
Anyway, the 50% of B*Witched who were neither the really fit one or the really plain one have decided to relaunch and have recorded some sur­pris­ingly listen­able new tracks with titles like 'Diet Coke' and 'Tip It'.
Both songs sound like quite unfin­ished but still rather promising Xenomania demos. The not-very-secret con­nec­tion here being that Edele has been one of the writers on various Xenomania tunes including the STILL AMAZING 'Some Kind Of Miracle' by Girls Aloud.


Inevitably you can hear the tracks over the the band's official MySpace, where they have included — along with various pictures of the girls per­form­ing at Jumpin' Jack's — this pho­to­graph of Peggie-Anne, their tour manager.
JESUS CHRIST WOMAN KEEP YOUR EYES ON THE ROAD!!! WATCH OUT!!! OH GOD YOU JUST RAN OVER TWO OF BELLEFIRE!!!