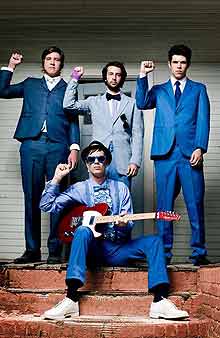 HelloGoodbye are popular-ish in America. The band's single 'Here In Your Arms' got to Number 38 in their charts, and given the number of Ne-Yo singles that need buying we reckon that's not bad at all.
They also have HALF A MILLION MYSPACE FRIENDS.
'Here In Your Arms' is hopefully going to be released in the UK at some point and this is a good thing because, as we mentioned in this week's Popjustice mailout, it sounds like OK Go singing 'Believe' by Cher.
If such a thing as New Rave existed, this song might be labeled as New 90s House. It doesn't so they won't.
It also doesn't help matters that the other songs on their MySpace page are bordering on being a total racket. There is a bloody ukulele on 'Oh It Is Love'!
BUT WE ARE WILLING TO OVERLOOK THIS HICCUP BECAUSE THEY HAVE RECORDED ONE SONG THAT IS TOTALLY AMAZING.
Anyway, lastly, while they are not the best looking band in the world, what they lack in classic good looks they make up for in the will­ing­ness to shed their clothes at any oppor­tun­ity. Have a look at their nipples here.
(This nudity/attractiveness see-saw is one worth future invest­ig­a­tion, do you not think?)
Anyway, the 'Here In Your Arms' video is also very good. Especially if you like 'DayGlo'.