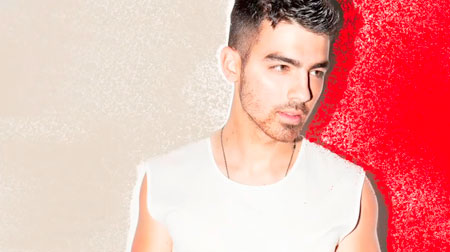 There comes a time in every young gentleman's life when he must ask himself an important question about how his recent past impacts on his immediate future and the person he will even­tu­ally become. The question is this: "must I really persist with the insec­ur­ity-fuelled guitar obsessiom of my teenage self, or am I man enough to like proper music instead? Am I secure enough with my own mas­culin­ity, my own manliness and my own penis not to feel the need to wave a fucking guitar around all over the place, or worship those who do? Am I a man, or am I just doing an impres­sion of one?"

If you are male and reading Popjustice you are A MAN. Joe Jonas is also, offi­cially, A MAN.

Brotherbaggage: GONE.

Guitars: GONE.

Questionable music: POSSIBLY GONE IT'S HARD TO TELL FROM THE MUSIC IN THIS BUT CHANCES ARE HE'S DOING A TIMBERLAKE HURRAH.

[youtube]1ARu_6Kg0yA[/youtube]

The single's out next month.