To be quite honest readers we started with the headline — which actually doesn't look quite as good written down as it sounded in our heads — and worked backwards, but bear with us.
There are three parts to this post.
In the first bit, we'll explain why Vine is great as a pop thing. If you don't know what the hell we're banging on about re the whole 'Vine' thing, this is the bit you'll need to read first.
In the second bit, which is the 'titular' countdown of Vines, we'll talk you through ten good ones that we've seen.
And finally, we'll list six things we want to see on Vine in the next six days.
Without futher ado:
Why Vine is great as a pop thing
First and foremost, pop music is all about pop moments.
They should be capital-'p' capital-'m' Pop Moments really, because they're pretty important. The way they're strung together — within a song or across a career or through­out a live show, or whatever — is important too, but if you don't have Pop Moments, you don't have pop.
The recent explosion of 'GIF culture' (oh dear) has allowed fans to centre in on specific Pop Moments and it's started to feel like pop itself is respond­ing. If you look at a video like this…
…you can't go longer than five seconds between GIF-friendly Pop Moments.
Obviously there's only so much time you can spend watching One Direction touching each other, and in real life most of the best Pop Moments combine sound and vision. Which is why Vine is great. Sound's off by default, but you can have it if you want. Communicating in six-second bursts of sound and vision is ideal for popstars and pop fans and the people who make pop great, making Vine the perfect medium for the Pop Moment.
It's rel­at­ively early days for Vine and certain aspects are certainly a huge pain in the arse — it's owned by Twitter, for instance, but it's not built into Twitter's apps, integ­ra­tion with Twitter is shonky at best, and it's only available as a stan­dalone app for iPhones and iPads. Hopefully they won't take too long sorting it out because we'd like this to take off.
Anyway here is that countdown of Vines that we were talking about.
Ten Vines we have quite liked
10. Bowling with Tegan & Sara.
This was actually recorded (Vined?) yesterday evening at Tegan & Sara's album launch thing by Popjustice Features Editor Michael. The gentleman you see near the end is legendary rock critic Owen Myers.
9. The Hurts promo thing continues.
As you know, Hurts sent a load of journ­al­ists jackets with their new logo on, and invited said 'journos' to wear said garments when attending tonight's gig. Perhaps the band have had second thoughts about sending people out onto the streets of London with that logo on their lapel so on Tuesday they sent out some necklaces inside Russian dolls which The Media have now been invited to wear instead. The Vine you see above is from Michael Lewin, the editor of Notion magazine. (This would usually be the bit in a 'here's a new social media thing' piece where we'd link to Michael's Vine account but you can't do that because Vine doesn't exist properly on the internet, due to being annoying.)
8. Here's The Good Natured dec­or­at­ing some CDs.
We like The Good Natured.
7. Parlophone have done a Vine.
This is included mainly because it's got Kylie in it, and you can't go wrong with a bit of Kylie.
6. Madeon has been 'Vining' from the Gaga tour.
Imagine if he 'Vined' a bit of a new Lady Gaga song. JESUS CHRIST IMAGINE.
5. Little Boots went to the Hayward Gallery don't you know.
Cultural.
4. Dido: loops quite pleasantly.
What you'll be noticing here is that the 'countdown' format of this countdown is com­pletely arbitrary and we're just running through them in the order we came across them.
3. Professor Green strained to have a shit.
Professor Green has done a Vine of himself on the toilet making some alarming noises. Sadly he just published it to his Vine followers and didn't Tweet it, so (due to some of the lim­it­a­tions we mentioned above) we weren't able to get its URL, and because of that we weren't able to embed it here. You've had a lucky escape, to be honest.
2. Our nemesis Porter Robinson has been busy.
'Porter' (if that is his real name) has done three Vines so far. Two involve dogs, one involves a car accident. The modern music industry in microcosm, ladies and gentlemen.
1. Last but not least, at Number One, it could only be: EMELI SANDÉ.
What roundup of something vaguely musical would be complete without omni­present wobbly hair prac­ti­tioner Emeli Sandé? Yes that's right everyone, Emeli Sandé is PON DE VINE. Yet, sadly, she has not been sharing her fas­cin­at­ing snippets of life with her Twitter followers so, yet again, we cannot embed her Vines. It's probably for the best — the excite­ment might have been too much.
And finally: six things we want from Vine in the next six days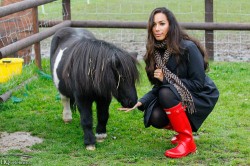 1. We want Leona Lewis on or near a horse.
2. We want tour rehearsal Vine from Girls Aloud.
3. We want someone — BUT PLEASE GOD NOT IMOGEN HEAP — to make an 'album' of six six-second songs, each with their own video.
4. We want something from Lady Gaga. Anything from Lady Gaga. This is the perfect medium for Gaga. COME ON STEFANI!
5. We want Cliff Richard shouting "CHRISTMAS TIME MISTLETOE AND WINE HERE I AM DOING A VINE".
6. And hey how about some hilarious banter from The Wantezzzzzzz
In summary
This could really, properly, actually be the best inter­netty thing to happen to pop since Twitter, but they need to sort out the sharing side of things before everyone loses interest. THE END.
PS: Popjustice is on Vine…
…so find us and add us when you sign in.