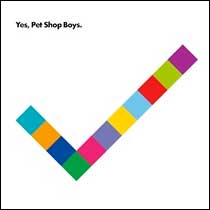 So we think you can probably see what they've done here. What might not be imme­di­ately obvious but is exclus­ively revealed on the Pet Shop Boys website is that each square rep­res­ents one of the album's eleven songs. It's boxes in a tick rather than a tick in a box. 'Interesting.' But which colour is which song? Here's what we think, from left to right:
Opal blue sort of colour: 'Pandemonium'
Goldy orange: 'Did You See Me Coming?'
Royal blue: 'Building A Wall'
Green: 'Beautiful People'
Nice pink: 'All Over The World'
Purple (or is it mauve?) (don't get us started on 'lilac'): 'The Way It Used To Be'
Yellow: 'Vulnerable'
Sky blue: 'King Of Rome'
Red: 'Love Etc'
Lime — but not far off 'bogey green': 'Legacy'
Dark purple: 'More Than A Dream'
Incidentally, we hate people talking about boxes being ticked by bands and their releases but while we're here the following boxes are ticked by 'Yes':
1. Boo-hoo song about gloom 'n' non-fun
2. Wrong track picked as lead single
3. Happy song about being in love
4. Posho ref­er­ences to proper cultural things
5. Etc.