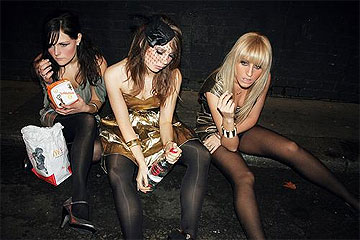 We're not sure how fre­quently you will be seeing this new 'Red Blooded
Women Megamix Tuesday' feature on Popjustice — the smart money's on
'today and never again' — but Red Blooded Women, the new pop trio seemingly put together almost entirely for the benefit of people on the Popjustice mes­sage­board (and anybody else who quite likes the idea of a scream­ingly 'now'-sounding girlband blowout) have sent us a megamix of various tracks from their debut album.
You can download it here.
Tracklist:
1. Colour Me Dirty
2. Synthesizer
3. Can U See?
4. Spotlight
5. Keep Up the Attraction
6. Don't Wanna Be Lonely
7. 4 2Nite
8. Lingerie
9. You Made Your Bed
Although it's a megamix so the tracklist is really:
1. Megamix
Incidentally, what we like about the picture above is that it provides us with a useful way of giving each of the girls Spice Girls-style nicknames. From left to right: Burger Woman, Booze Woman, Fag Woman.