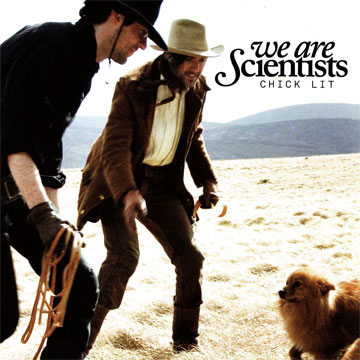 Better-in-inter­views-than-on-record indie duo rounding up miniature dog: amazing.
Slightly dis­ap­point­ingly the image is not a self-contained work of pop art — it was taken during the 'Chick Lit' video shoot. The video is, however, quite good.
httpv://www.youtube.com/watch?v=yIyLWDhxXoQ

We sometimes wish that We Are Scientists would coach other musicians in the art of giving decent inter­views. We Are Scientists could actually extend the idea to its logical con­clu­sion and do phone inter­views for other musicians. We Are Scientists would never publicly acknow­ledge that they did this, and inter­view­ers would happily 'turn a blind eye' to this arrange­ment because it would mean they got better interviews.
Interviewer: Hello, is that Shayne Ward?
Keith from We Are Scientists: Yes.
Interviewer: So tell us about that time you tossed off a dwarf…
Keith from We Are Scientists: [Hilarious response]
In terms of a pricing structure we'd say We Are Scientists could reas­on­ably charge other bands around £500 for each phone interview, or £2500 for a full day of press. If a magazine wanted to interview 'the band' in person, We Are Scientists could offer a premium service, starting at £5000 per day, which would involve dressing up as the band in question and con­duct­ing the interview in character.