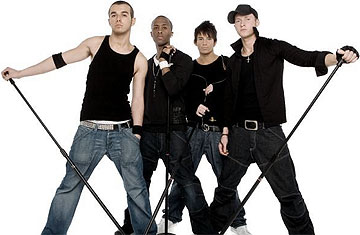 If you've been to see Girls Aloud on their current tour, you might have seen boyband Billiam in one of the support slots.
This is Billiam's last single, 'The Beautiful Ones', which got to Number 36.
httpv://www.youtube.com/watch?v=04mYZ-bcPJk

Here's what Billiam's press release has to say about the band's career to date.
"Billiam were the surprise hit of last year, cracking the national top 40 with their debut single 'Beautiful Ones'. Their mission to inject fun and excite­ment back into pop music, backed with amazing vocals and killer dance moves, ensured they built up a fanatical following. Now they're back with a couple of new additions, a new single 'My Generation' released on 16th June, and a coveted slot as the support act on the current Girls Aloud 'Tangled Up' tour. Get ready for Billiam!"
Translation:
"After a long period of aggress­ive street teaming Billiam somehow ended up in the very lower reaches of the Top 40 but nobody noticed. Their mission to drag pop music back into the 1990s, backed with heavily treated vocals and hackneyed dance moves, ensured they built up a following of about 200 people. Now they've spent thousands of pounds buying them­selves a support slot on the Girls Aloud tour."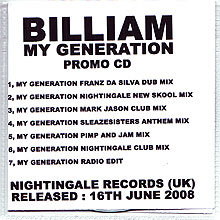 The band's new single, 'My Generation', arrived in the office this morning. It's not a cover of The Who's 'My Generation', which is good in one sense because it spares us the asso­ci­ated toe­curl­ing horror of such an effort, but in another sense it's bad because covering classic songs at least tends to guarantee one thing: a half decent tune.
As it is 'My Generation', which comes with a variety of mixes For The Gays, is pretty horrible. The press release claims that "this is a song that connects with everyone who ever answered back!" but it's more Rose Nylund than Rosa Parks, with a cavalcade of unin­ten­tion­ally sidesplit­ting sub-'No Good Advice' lyrics: "my gen­er­a­tion, no com­plic­a­tion, your words of wisdom are in vain, save it for another day".
In pop, one question tends to rear its head every eight or nine months — are the UK charts ready for another boyband? And the answer, as far as we can see it, remains the same: nobody wants a con­ven­tional (trans­la­tion: dated) boyband, people actively don't want a con­ven­tional boyband, and a British boyband will only ever suc­cess­fully launch if their music is so unques­tion­ably brilliant that the band's setup is almost irrelevant.
Just like Girls Aloud's music was so undeni­ably brilliant that they succeeded in spite of being a girlgroup, so any new boyband needs an erade­fin­ingly amazing song to even make the slightest impres­sion. If Billiam are enjoying what they're doing, and if they're honest and realistic with them­selves about what their chances are, that's great. But songs like 'My Generation' are not good enough, and no amount of support slots, MySpace bulletins or pro­vin­cial gay club PAs will change that.