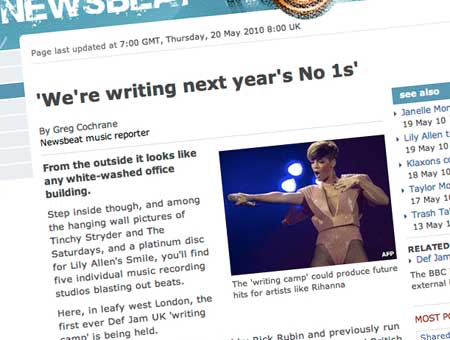 The Radio 1 Newsbeat website has a good article about Def Jam's first UK writing camp.
In one muggy room Danish poppers Alphabeat are writing a new track poten­tially for Justin Bieber.
In another, soul-man Lemar is working on "two or three" tracks which might end up on new albums from Rihanna or Jennifer Lopez.
In the past we've spoken to a few song­writers and producers who've been involved in these intensive song­writ­ing get-togethers and they sound utterly hor­rendous, with song­writers reduced to the level of battery hens as they churn out endless vari­ations on familiar lyrical themes — "first broken heart", "out on a Friday night" and so on. Sonically the labels will demand tracks that trail behind what's currently big in the charts, so that song in the Newsbeat article that sounds "a bit like Tinie Tempah's Pass Out" perhaps doesn't sound 'a bit like' the Tinie Number One purely by coincidence.
It's confusing for us that this workhouse approach to pop feels so sad, par­tic­u­larly when so much of our favourite music has been been created in similar scenarios, but the idea of Alphabeat and Lemar and teams of writers competing for the chance to score a co-writing credit on what might or might not be Track 9 on a future Jennifer Lopez album, with an A&R man upstairs binning off nine in every ten finished songs, does seem like a rather miserable state of affairs.
Mind you we suppose it's no more miserable than sitting in front of a computer writing about it.