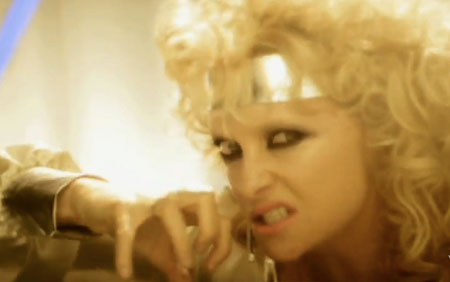 Goldfrapp's 'Alive' video appeared online yesterday. It is the sort of "oh why not" video artists make when they know the chances of heavy Box rotation are fairly slim anyway.

if you're in a hurry:

0:02 Five robed figures in a pentangle.
0:07 Alison appears in a Little Boots triangle.
0:51 Proper smoke and wind machine moment.
1:00 Laser hand thing.
1:01 Ministry Of Sound aerobics squad arrives but don't worry it's ironic.
1:51 Rumpo-inspired dance moves.
2:16 Vampire teeth.
2:24 Vampire murder.
2:42 More rumpesqual dance moves.
2:55 Alison is a vampire.
3:00 Alison has a lie down in a coffin.
3:05 'Fin'.

If you're in less of a hurry:

[youtube]tSdZAkA4VpA[/youtube] Well done everyone.