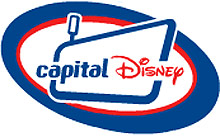 Good news for fans of The Death Of Pop but bad news for fans of Actually Listening To Pop: digital radio station Capital Disney is closing down this week.
We're listening to it in the office at the moment — James Beckingham is fielding phonecalls from teenagers about his imminent unem­ploy­ment and the forth­com­ing dis­ap­pear­ance of the station. It's a bit like an everything must go closing down sale on the radio.
Along with Gaydar, Magic and Heart, Capital Disney is one of those stations we sometimes chuck on in the office when we're not in the mood for wading through the hit-and-miss CDs piling up on our desks. It plays the occasion Hannah So-Called Montana track but on the whole you'll be more likely to hear Popjustice-friendly artists like Lily Allen, Take That, Justin Timberlake, Mark Ronson, Beyonce and Scissor Sisters. It's a good little station, for the next few days at least.
The reason it's closing is that GCap Media, who own the station, have pissed an awful lot of money up the wall in recent times. There's a Media Guardian article about it here. Registration required so here are the main points:
» The company's annual revenue has dropped by 9%.
» Because this means they are only making £14.4m profit everyone is running around shouting and throwing Powerpoint present­a­tions all over the place trying to sort things out.
» The plan is to con­cen­trate on things like Classic FM (boring), Xfm (somehow managing to get worse with every day that passes), Planet Rock (hm…) and theJazz (JAZZ), as well as some 'classic hits' stations.
» They won't be making much of an effort to keep Core (which is another great digital station we often listen to) going.
» Do not worry though because they plan to do some more inter­act­ive stuff — STOP PANICKING THE COMPANY IS SAVED.
» The scary man in charge, Mr Bernard, says that it is very difficult to run this sort of company because the market is difficult to predict. Fortunately in closing Capital Disney he has made the clever pre­dic­tion that people won't ever be very inter­ested in listening to main­stream music which is in the charts because people have liked it enough to go out and buy it.