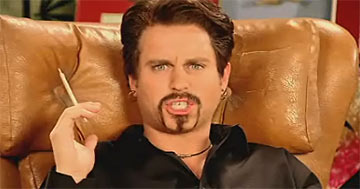 Important news if you are one of the eight people in the UK who has worked out to how to set their Sky+ with their mobile.
You HAVE to record Star Stories on Channel 4 tonight, which focuses on the life and times of George Michael. It is like a cross between Rock Profile and a Crimewatch reconstruction.
They've given us some clips to show you.
There's also an interview with 'George'…
"You won't believe this, but there's a REAL Club Tropicana! It's in Blackpool though and it's shit."
…on Channel 4's website.