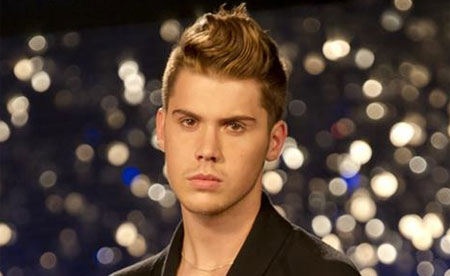 Remember all that fuss everyone made about strop­faced X Factor con­test­ant Aiden Grimshaw, and how he should have been given a record deal? Well as we all know the only way it would have worked is if he'd done a 'Murder Ballads'-style psychopop album written and produced by Hurts. That's what we had in mind when we said he c/should have been signed.

What we most defin­it­ley did NOT have in mind was something that took place last weekend at Market Rasen Racecourse.

To start off with, here's Aiden and a man with a guitar per­form­ing Tinie Tempah's 'Frisky'.

[youtube]F‑fAteyc0ew[/youtube]

Naturally an acoustic cover version is part of any modern popstar's arsenal but this one really caters for the arse end.

Never mind. Let's see what else Aiden has up his sleeve. Don't forget, he's already done his over­wrought 'surprise' acoustic cover of a modern urban pop hit, so it's time to mix things up a bit with… An over­wrought 'surprise' acoustic cover of Magnetic Man's 'Perfect Stranger'.

[youtube]56KIFtSBNYk[/youtube]

How, you might be wondering, could this per­form­ance get any worse? We have four words for you. Red. Hot. Chili. Peppers. [youtube]1fWjBR5SFUY[/youtube]

Let's liven things up with some DAMIEN RICE. [youtube]rhi7IwaYJVk[/youtube]

And finally — well, he really pulls it out of the bag with this one. Brace yourselves, ladies and gentlemen, for the full force of Aiden Grimshaw covering MUMFORD AND SONS. [youtube]FsgKSVjz9lI[/youtube]

Oh dear. Oh dear, oh dear, oh dear.