As another album-releasing season approaches, we can't help but wonder whether some high profile signings and transfers might be in order.
This is how it could work in a 'real life' scenerio.
We start off with Rochelle from The Saturdays. She's quite happy in The Saturdays, but what happens when she gets a phonecall from the new, multi-bil­lion­aire Arab owners of Girls Aloud? She's a‑warblin' with Nadine before you can say 'Something Kinda Oooh'.
Cheryl Cole, meanwhile, is now keen to leave Girls Aloud. And who's that on the
phone? It's only Island Records. Next thing you know, Cheryl's playing
for…
…the Sugababes, but that's alright, because Keisha's been trans­ferred elsewhere to form an all-new girl trio with two solo singers.
ET VOILA.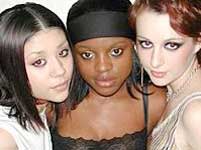 That is how it should work. If someone could see to the paperwork that'd be great, cheers.