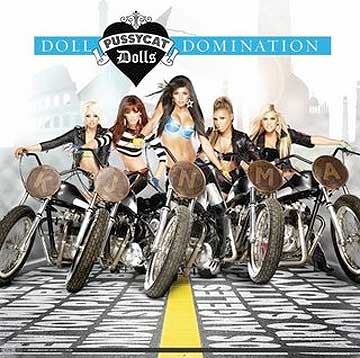 This is a pretty reas­on­able (7/10) album sleeve from the Pussycat Dolls. As you can see, the band are on motor­cycles and are riding over the names of different cities.
Allow us to decode the complex semiotics: THEY ARE GLOBALLY FAMOUS AND SHIT.
This would be quite a good sleeve for a live album. 'Doll Domination' is not a live album but, at 18 tracks, it's about as long as it takes to talk to the bus stop, wait for a bus, get on the bus, go to the train station, get on the train, travel to a venue, queue to get in, put your coat in, go to the bar, get a drink, find your seat, go for a piss, look at the mer­chand­ise stall, buy a t‑shirt and whistle, watch the gig, leave the venue, go for 'one drink' in a nearby public house, walk to the train station, wait for a train, travel back, wait for another bus, get on the bus, travel to your house, let yourself in, have a cup of tea, check your emails and then have a wank. Still, it's all about value for money, isn't it.