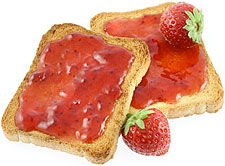 UK stadium rave pop exper­i­enced its first 'Falling Down' moment yesterday evening when Calvin Harris, leaving the Wireless festival site, Tweeted* about a piece of filming he'd been asked to do backstage.
From what we can make out from his increas­ingly bewildered series of Tweets, he had been asked to open a jar of jam by a camera crew producing 'content' for what Calvin believed to be "an ITV online thing". It's the sort of thing popstars hate having to do and people behind the camera hate having to ask popstars to do.
"Predictably," he wrote, "the jam remained unopened. Is this the end? Sadly no. 'Oh go on, have another go.' WORST TELEVISION EVER. WHO DO THEY EXPECT TO
WATCH THIS JAM-UNOPENING? IS THIS WHAT IT'S COME TO? IS THIS MY LIFE?
IT'S NOT THE EMBARRASSMENT OF NOT OPENING THE JAM — I HAVE COME TO TERMS
WITH MY LACK OF UPPER BODY STRENGTH. IT'S THE OVERWHELMING SADNESS I
FEEL THAT SOMEBODY WHO MAKES TV THINKS THIS IS AN ACCEPTABLE AND
ENTERTAINING FEATURE."
Just to fill in the gaps for Calvin, this is how it could have happened.

FRIDAY AFTERNOON AT THE CONTENT PRODUCTION COMPANY
Content Producer 1: Shit, it's Wireless this weekend. What have you lot organised?
Content Producer 2: Well we've got four passes…
Content Producer 3: Three — you've given one to Simon.
CP1: Simon's not coming is he?
CP3: So we've got three passes…
CP2: Can we film any of the performances?
CP1: No, we can't get in the pit.
CP2: What if we get in the pit?
CP1: We can't put any per­form­ances online.
CP3: How about backstage voxpops? Ask people if they're having a good time and who they're looking forward to seeing.
CP1: BRILLIANT! THIS HAS NEVER BEEN DONE BEFORE.
CP2: Great, that was easy.
Two hours later.
CP2: Look everyone, I've got some bad news. I've checked and the backstage voxpops thing has been done before.
CP1: When?
CP2: Every year, at every festival, by every 'content'-producing TV and internet pro­duc­tion company ever.
CP1: Shit.
CP3: How about something really funny like we get everyone to wear a hat?
CP2: We don't have any hats.
CP3: Let's get everyone to tell us what their favourite 'Wireless' device is, for example a remote control, or a mobile phone.
CP1: That idea's too good for Wireless, we're only getting two grand for this. Write that idea down and give it to another client.
CP2: But it won't work for other clients, unless there is another event called Wireless.
CP1: WRITE IT DOWN.
CP2: So where are we… We don't have any hats, is that correct?
CP1: We have no hats, not until the next round of funding.
CP3: How about… (Looks around office) Computer keyboards! Everyone who goes through the press run holds a computer keyboard and says something.
CP1: Is it a wireless computer keyboard?
CP2: No, it would need to have a wire in it, I used to have a wireless one but then the battery ran out so it's in the cupboa…
CP1: STOP! Look we were supposed to have these ideas over to the Wireless people by three — what can we do?
CP3: How about we get everyone to open a jar of honey — because it's summer, and bees come out in the summer — and sometimes it's quite hard to open honey. So we'll get everyone to open the honey then we'll edit together all the footage of people doing that, and it'll be a great little piece of content.
CP2: We don't have any honey, the cleaner threw it out.
CP1: What about that hamper we got sent by Syco?
CP2: That's got jam in it…
CP1: JAM IT IS!
CP2: What if nobody agrees to this — it's a bit wacky!
CP3: There's always VV Brown.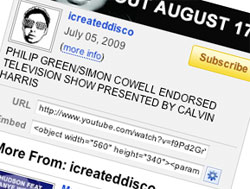 So that's possibly how the jam thing happened. That's how things like that ALWAYS happen.
It's part of the Popworld legacy — this idea that someone doing something stupid or pointless is enter­tain­ing if enough off-camera runners and research­ers are whooping and sniggering.
That's not actually what Popworld (at its best) was really about, of course, but as time goes by and Popworld exists only in memory, its influence becomes more and more a question of making famous people look not exactly stupid but just sort of odd.
Anyway, in a brilliant piece of pop satire Calvin Harris' own response to Jamgate was to invent JAM TV; he filmed the first episode last night, and here it is.
httpv://www.youtube.com/watch?v=f9Pd2GrYS5I
Oh and here's the new Calvin video, while we've got your attention.
httpv://www.youtube.com/watch?v=ZMYGbGThPdc
Circular.
* Yes sorry this is a story inspired by a load of Tweets, it's all a bit hopeless isn't it :(