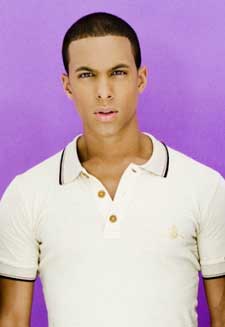 Marvin from JLS interview

Questions: Peter Robinson
Answers: Marvin from JLS (obviously)
Hello Marvin. After VS and JLS are you only ever going to be in bands whose names feature the initial 'S'?
(Laughs) Yes! Although hopefully this will be the last band I'm in because I love it.
You could join the SAS.
Yes!
Don't join the SS.
(Laughs)
Can you give us a chart pre­dic­tion for your single?
What are you doing to me?! Fingers crossed for a Top 5.
If it goes to Number 14 will that be a failure?
Yes.
If it goes to Number 9 will that be a failure?
It'll be disappointing.
Really, people are talking about this as a potential Number One single, so actually a Number 2 would be a failure of sorts.
No, I think Top 5 would be fine. Number One would be great, Number 2 would be great. Three, fantastic. I had a Number 7 with VS so anything above that would be great. Obviously Number One is the dream, of course.
Let's get con­tro­ver­sial. Let's talk dance routines. The 'heart beating' chest bit of your 'Beat Again' dance routine has split opinion. Some think it is terrible, some think it is amazing. Did you have reservations?
It was put together by our cho­e­reo­grapher who's a really cool guy. You know what, when we look back at that dance routine now we think, 'bloody hell, is that really us doing that?'. There's a lot of dancing there.
It's two videos' worth of dancing, in one video.
But the heartbeat – I think it's quite cool. I don't mind it, to be fair.
The other amazing bit is where three of the band have their legs in the air…
Yes! I'm the lazy one, I'm the one who gets to stand up and boss the other three around.
When that was first suggested did you say, at all, 'hm…'.
No! Because I didn't have to get on the floor, I was the one who got to stand there. We must have gone through that video sixty times when we shot the video, God knows how many splinters and bruises the other guys got from going down on that dirty wooden floor. It's actually my favourite bit of the video.
One of the best things about JLS was the amazing 'Croydon riot', including the hys­ter­ical south London newspaper which ran with the headline 'it was not a joke – I hate Croydon now'.
Seriously? It wasn't Croydon's fault!
But Croydon has suffered. You should say something to re-promote Croydon.
I can't really say anything because we're doing a signing there soon… I've got a feeling it's going to be carnage again but they're going to make sure they've got enough security there. On the day of the single release we're going to be in HMV Croydon doing a signing. Hopefully it won't be a repeat of the Croydon fracas last time!
Well if you keep plugging the date and location in every interview you do as unsubtly as you did just then, you'll end up with a lot of people there.
(Laughs) Yes…
And when you say 'carnage' what you mean to say is that you'd like it to be busy, but what we're not looking for here is actual death. It's the fine line people who organise this sort of thing have to tread: you need it to look busy for the TV news cameras but you don't want people being carted off in ambulances.
Also, do you know what, I spoke to one of the girls from The X‑Factor the other day – one of the research­ers who actually organised the Croydon event – and she said that through­out the whole of the beginning of The X‑Factor this year they've ref­er­enced the 'JLS-gate' incident in Croydon to make sure it doesn't happen again. But it turned out alright. It's all good.
Another great bit in your video is the bit when you all lift your shirts, which leads to the question of whether you were concerned that you would be called shirt lifters.
It wouldn't be the first time… You should know us by now, though – we're not afraid to show a bit of flesh…
And another reason why you obviously wouldn't be bothered is that 'shirt lifter' is a homo­phobic form of abuse and we are now living in enlightened times.
Yes.
Now then: the idea of 'the boyband coming back'. People say quite fre­quently that pop 'needs' boybands. That there is a 'gap in the market'. But increas­ingly one has to wonder whether people really want boybands, or whether it's just quite an old fashioned idea of pop music, and a format that would seem quite old fashioned to someone who's, say, 13 years old now. But JLS make sense in a way most other recent boybands don't.
Well thank you.
And there's a part of JLS which doesn't seem like it's a gay thing, par­tic­u­larly… it's hard to know whether these words are making any sense or if they're just gibberish. But it seems there's something about…
Well, I think I know what you mean. I think what it is, is that music has moved along to a point where almost everything seems credible these days. Well 99% of stuff. And regard­less of where you come from – I mean, look at The X‑Factor. The success of someone like Leona has made it possible for even an X‑Factor act to be credible. And on top of being credible there's the idea of doing well, which is a different matter all together and it's def­in­itely hard to do well unless you're actually good. So it's got to the point where it's cool for, I dunno, JLS to col­lab­or­ate with Lily Allen, and…
Have you col­lab­or­ated with Lily Allen?
No.
Disappointing.
I'm sorry.
You led us up the garden path there. And we got to end the of the garden path and it turned out there was just a massive pile of shit there.(Laughs) OH GOD!
But your point basically is that concepts of cool and uncool have blurred so much that – or because because – cool people do uncool things and uncool people do cool things, and so now the idea of cool just doesn't really mean anything except actually it still does? And that there's this big mess in the middle in which the different letters of the word 'UNCOOL' are just all still there but in a slightly different order? Like 'NUCOOL'? What we're talking about is the new cool. Is that what you're saying?
Exactly and pop's changed, like you say. Ten years ago it was cheesy and it worked but now that wouldn't work, and that's a good thing. You've just got to roll with the times, you know?
But still it comes down to the songs. Because although JLS made more and more sense as The X‑Factor went along, if you'd been given the wrong song to launch your career with it would have all gone to shit.
Oh abso­lutely, of course. And that's a lot down to the label. It's funny cos people see me nowadays and they're like, 'oh did Simon snap you up then?', and I'm like, 'no, we're signed to Epic'… Which is proably the most – though I hate the word – 'urban' label on Sony, and with Nick Raphael and Jo Charrington working on us, it's…
And just to clear up those two names for readers who may not have come across them before, that's basically the two label people respons­ible not just for Another Level but then, in their early stages, Blue…
Which is perfect for us. And I think if we had been with Simon at Syco then who knows what direction we would have gone in.
What direction do you think you would have gone in?
I think it would have been very… I think there would have been a lot of covers, put it that way.
Did you hear the Eoghan Quigg album?
I did, yes.
What did you think of the Eoghan Quigg album?
(Slight pause) Eoghan's a good friend of mine… And I think that the album was very rushed, everyone knows that, and hopefully Eoghan's going to get a second bite of the cherry to put something else together that he might have a little more control over. Eoghan's a great lad and we wish him all the best and it's just a shame that the album didn't do as well as people would have thought it would have done.
You didn't actually answer the question there…
(Laughs)
But you responded to the question in a very pro­fes­sional manner, so well done. And well done to whoever did your media training. What are the perils of being the tallest member of the band?
You have to dance the biggest, otherwise you just look like a tall gangly person who can't dance. So I have to make the most effort. Also, whenever I'm in the studio I have to move the mic stand because the rest are shorter.
Are there any cover versions on the album?
There might be one… 'Umbrella' is the b‑side to the single and we are recording another cover, but I'd be surprised if there's more than one cover on the album.
Now, you know when VS went tits up?
Yes.
Well one of the things that perhaps fans don't always realise is how brutally and aggress­ively the music industry drops people, members of pop groups, when record contracts end. Because when something ends they go from one very enjoyable type of lifestyle to, basically, nothing. Was that the case for you?
It was sudden. I mean we were due to release our fourth single. It was meant to be the Chicago cover, 'If You Leave Me Now'.
Which was amazing. And could have turned the whole thing around.
Well that was the plan. But then there were changes at the label and unfor­tu­nately we were a victim of that. But everything happens for a reason… And then yes, as soon as we lost the deal that was a reality shot for me. But I've always been good at picking myself up and getting on with things. I went and got a proper job, and that was cool…
And you got a job working in property, yes?
That's right, I was selling property overseas and stuff.
What's great is this idea that you got out of pop music just as pop was heading into a bit of a lean patch, then went into property and sub­sequently got out of that just as the property market hit the shit. Now it's BOOM TIME FOR BOYBANDS.
I got out at the perfect time, trust me! I see some of my friends from the property world now and they're like, 'trust me – it's so shit'. You know, they're all on com­mis­sion only jobs, and they ain't got no work, and I'm just thinking about, genuinely, how lucky I am to be in this position. And you know what, cos I've been here before I know how quickly it can all be taken away so I'm living every day in JLS to the fullest, enjoying it and making the very most of it.
*
JLS have an official website here.