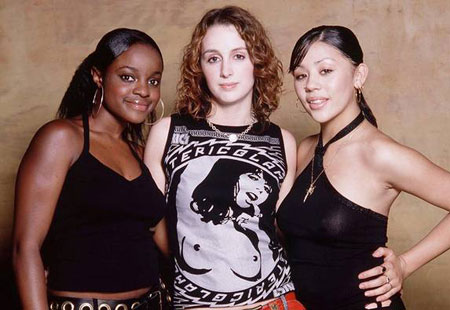 This is all so stupidly amazing that we are going to have to do it in bullet points in an attempt not to just BREAK DOWN AND CRY.
Here goes.
» Keisha Buchanan, Siobhan Donaghy and Mutya Buena all used to be in the Sugababes, then one by one they left.
» When Keisha was the last original member to leave the band in 2009 there were some brief murmurings about some sort of reunion, but it was felt that the time wasn't quite right.
» They met up last year and decided that they would get back together to see how it went.
» It's going quite well as it happens.
» Emeli Sandé, MNEK, Asterix, Craze & Hoax, Tanika, Mojam and Naughty Boy are some names that should be considered pertinent to the whole 'what will their new material sound like' question.
» Sadface: they have not recorded with Xenomania.
» Happyface: XENOMANIA ARE IN THE DIARY.
» Just as excitingly so is Cameron 'Most Of The Best Songs On One Touch' McVey.
» They are being managed by Felix Howard. The main thing you need to know about Felix Howard is that he wrote THIS and THIS.
» The Pro Green tweets last night may have been a bit of a red herring – they were basically just in the same building.
» They are not called Sugababes (because they can't be and let's face it probably don't want to be although following Mutya's trademark victory they could do some nice serviettes with that name on if they wanted). We'll call them Origababes for the time being, but it struck us over Christmas that One Touch has a nice ring to it. Anyway the point is that they are concentrating on the music bit rather than the name bit for the time being.
» There's no label (or publishers) yet, but they are – music biz 'parlance' alert – 'down the road' with three.
» They are, so we hear, "three very happy ladies".
*Breaks down and cries*