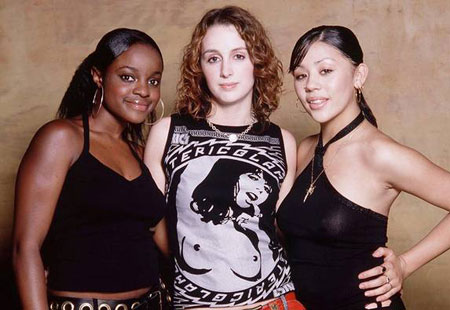 This is all so stupidly amazing that we are going to have to do it in bullet points in an attempt not to just BREAK DOWN AND CRY.
Here goes.
» Keisha Buchanan, Siobhan Donaghy and Mutya Buena all used to be in the Sugababes, then one by one they left.
» When Keisha was the last original member to leave the band in 2009 there were some brief mur­mur­ings about some sort of reunion, but it was felt that the time wasn't quite right.
» They met up last year and decided that they would get back together to see how it went.
» It's going quite well as it happens.
» Emeli Sandé, MNEK, Asterix, Craze & Hoax, Tanika, Mojam and Naughty Boy are some names that should be con­sidered pertinent to the whole 'what will their new material sound like' question.
» Sadface: they have not recorded with Xenomania.
» Happyface: XENOMANIA ARE IN THE DIARY.
» Just as excit­ingly so is Cameron 'Most Of The Best Songs On One Touch' McVey.
» They are being managed by Felix Howard. The main thing you need to know about Felix Howard is that he wrote THIS and THIS.
» The Pro Green tweets last night may have been a bit of a red herring — they were basically just in the same building.
» They are not called Sugababes (because they can't be and let's face it probably don't want to be although following Mutya's trademark victory they could do some nice ser­vi­ettes with that name on if they wanted). We'll call them Origababes for the time being, but it struck us over Christmas that One Touch has a nice ring to it. Anyway the point is that they are con­cen­trat­ing on the music bit rather than the name bit for the time being.
» There's no label (or pub­lish­ers) yet, but they are — music biz 'parlance' alert — 'down the road' with three.
» They are, so we hear, "three very happy ladies".
*Breaks down and cries*