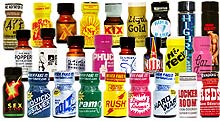 At the BBC, Fridays mean booze trolley day. It is a trolley of booze, wheeled around the office.
Things are similar at Popjustice HQ, but with poppers. Every Friday at 4pm, our specially modified Glade Plug-Ins fire a thin mist of amyl nitrate around the office.
This afternoon, the soundtrack to this room odour­ising mag­ni­fi­cence will be the song which loads auto­mat­ic­ally on this page.
It is the Luke Terry mix of the song in question — you can hear the whole thing at his MySpace.
We have got a bit of a headache.