'Here at Popjustice' we always like to hear about pop music related graffiti, so in light of a deluge (more than one pho­to­graph in a fortnight) coming our way perhaps it is time for a roundup.
EXHIBIT A: 'PUT A DONK ON IT'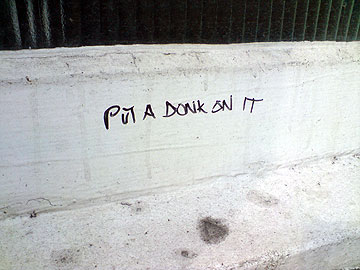 Writes Popjustice reader James, via email: "I spent the Easter weekend tracing family trees in Cumbria, as you do, and saw this on a run down building. That said it could have been any of the buildings up there. The put a donk on it phe­nomenon has clearly reached the north, unlike knitwear." We like this street art — its style is as clean and as minimal as a Pet Shop Boys album sleeve. Which brings us to…

EXHIBIT B: 'NO PET SHOP BOYS'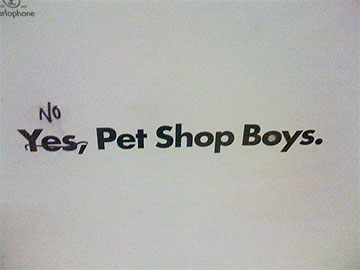 This was 'Retweeted' to us from this person. As bril­liantly sub­vers­ive state­ments go this is up there with the best. What does it mean? We may never know.