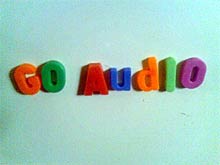 If you missed our mailout yesterday you will also have missed a mention of Go:Audio.
They are a new band with unne­ces­sary punc­tu­ation in their name and they are very good.
The song on their MySpace — 'Made Up Stories' — is about having to watch someone you fancy getting off with someone else and it sounds like All American Rejects being a proper pop group or Busted being a proper emo group.
You get the general idea.
Anyway it's a corker.
We mentioned the band on Popjustice at the start of the year and they have since signed to a Sony label which isn't actually Sony but basically is. The label is called 'White Rabbit' FYI. Lemar's on it. So is Imogen Heap. So are Go:Audio (see above).