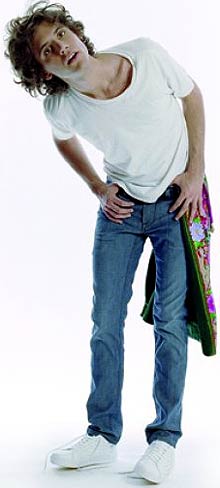 Right then. This 'item' is for the benefit of EVERYONE who has been emailing us about Mika over the last few months saying:
1. When are you going to do a thing about Mika?
2. Don't you think Mika is amazing, he is just what pop needs!!1!
3. Blah blah blah.
Right.
Mika is GOOD. He is QUITE AN ALRIGHT POPSTAR. Yes he looks good although NOT AS GOOD AS HE APPEARS TO LOOK IN THIS PICTURE. –>
Yes, yes, we are also sure he is an 'amazing performer' and 'really puts on a show' and all that stuff. This video of him at London's most boring non-smoking venue would seem to support that claim.
What we know for certain is the following.
1. 'Relax (Take It Easy)' is a brilliant song, partly because it is basically The Cutting Crew being done in a Scissor Sisters stylee.
2. Stuff like 'Love Today' is very nice too.
3. The track 'Grace Kelly' is — and we've heard the current Magic Numbers album — one of the worst things we have heard this year. We are obviously 'wrong' about this, however, because everyone else says it is amazing.
So there you go. The defin­it­ive word on Mika.