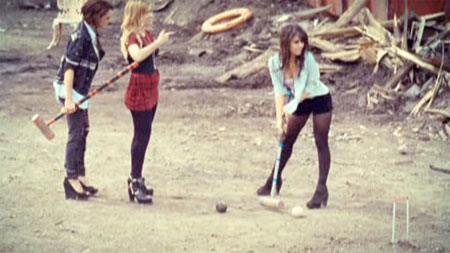 The demise of Girls Can't Catch, confirmed a couple of days ago but pre­sum­ably looming steadily into view since their debut single missed the Top 20 last year, is a funny old thing. It's hard to write these sort of posts without it looking like one is gloating, but there's not really anything to gloat about here.

Okay, so they were a bit shit. The name Girls Can't Catch never really worked out. Their first video was set on a rubbish dump. Worst of all — and this is appar­ently a crime in the eyes of those gurgling pop hecklers who feel musicians should have only one chance at a career — one of them had been in a band before. In an era when pop often means La Roux and 'Florence' and The Hype Machine they were also quite old fashioned. They were a smiley trio of girls who'd been audi­tioned, who didn't write their own songs, and who danced around on a stage.

The thing is, they were also a bit amazing. 'Keep Your Head Up' was a great song and we loved 'Echo'. Their first video was set on a rubbish dump. Pop is littered with artists who are (or started off being) both a bit shit and a bit amazing. Pop wouldn't be pop without these artists. Kylie started off being a bit shit (that 'I Should Be So Lucky' video is not just dated — it was actually shit at the time), for example. Some of Girls Aloud's most iconic early moments — Nicola's side ponytail, those Bacofoil outfits — were sim­ul­tan­eously shit and amazing.

We can't help but feel that Girls Aloud are a key factor in this. In a year (2009, and 2010 as it turns out) without a Girls Aloud album it seems Girls Can't Catch — launched by Girls Aloud's label using a support slot on the last Girls Aloud tour — were sub­con­sciously or delib­er­ately punished by fans simply for not being Girls Aloud. It's something Nadine Coyle would do well to watch closely: the country's favourite pop band cannot 'take a break' for the first time in almost a decade without blame being placed somewhere. Maybe we're reading too much into it. Perhaps those tens of thousands of Girls Aloud fans who saw Girls Can't Catch on that tour simply didn't like the band. But — huge TV launchpad aside — is there really that much dif­fer­ence between Girls Can't Catch and Girls Aloud?

So the first two Girls Can't Catch singles weren't as good as the first two Girls Aloud singles. Were they bad pop songs? No, of course not. And was the band itself any worse than Girls Aloud? It's a tough call. We reckon that if any of those three members of Girls Can't Catch had been announced as a Girl Aloud at the end of 2002 they'd be a Nicola, or a Kimberley, or a Sarah, or even a Cheryl in 2010. Even with the ITV1 launchpad Girls Aloud took three years to really grow into them­selves as per­son­al­it­ies and Girls Can't Catch simply didn't get the chance. All they really did get was a load of internet mes­sage­board shouting which amounted to little more than (and we para­phrase here, readers) HOW DARE YOU NOT BE GIRLS ALOUD YOU ARE UGLY YOU CAN'T SING YOU CUNTS WHY DON'T YOU FUCK OFF YOU FAILURES. Which they didn't deserve firstly because they were pretty good and secondly because really, at the end of the day, nobody deserves that. (As a sidenote, it took us a while to figure this out but when as a fan or journ­al­ist or blogger or whatever you revel too much in artist's failure it tends to say more about you than it does about the person who's just lost their job.)

The idealist says this: "surely being 'pretty good' is not enough". Well maybe. Clearly, pop should aim for the stars. Clearly, no pop artist should aim to be average. But it misses the point to claim that the band were bad (or terrible) simply because they were not extraordin­ary. Not every artist can be Girls Aloud or Lady Gaga, nor SHOULD every artist do what those acts have done. Girls Cant Catch were just a pop group, and their songs were just pop songs. And really, that's fine. Pop doesn't always need to smash bound­ar­ies. Here's the news: if you only enjoy pop music that breaks pop's bound­ar­ies, you are not really a pop fan.

When pop is healthy — and it feels pretty healthy right now — there's room for loads of bands, not just a duopoly with Sugababes and Girls Aloud, the last swingers in town, relics from the last gen­er­a­tion of pop dominance, roaming the pop scene. Girls Aloud and the Sugababes (at their height) were perceived to have opened the door for smart, credible (ie NME liked it) pop music. Perhaps, instead, they raised the bar for pop, and they raised it too high. Whatever the reason, for so much of the 2000s homegrown pop acts failed to break through again and again. It was perhaps easy to forget that when pop as a genre is healthy, it's not just about two artists. Instead it's a thriving ecosystem with big ones and small ones and everything in between. Some acts aren't as good or as big as the a‑listers, but they're still important to the fabric of pop. If pop is a community, those middling acts are a bit like binmen. Nobody really wants to be one, but take them away and it doesn't quite work.

We seem to have talked ourselves into describ­ing Girls Can't Catch as 2010's pop binmen, which is perhaps not entirely the right way to end things, but they did start their career on a rubbish dump so we suppose it sort of works.

Girls Can't Catch: you were a bit shit, but you were also a bit amazing, and we liked your songs.

This would have been Number One for three weeks if Girls Aloud had released it.

[youtube]RYwRbjn-PgI[/youtube] The End.