In a recent Pointless Vote we asked you which member of Girls Aloud would be the first to achieve a solo Number One.
Obviously first Number One doesn't mean biggest Number One and biggest Number One doesn't mean best Number One, and it's as likely to depend on little more than which release date is best for which artist, but here's how you voted.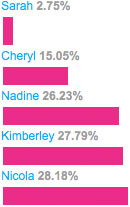 Print this out and stick it in your wall, and we'll return to pick over the pre­dic­tions twelve months from now.