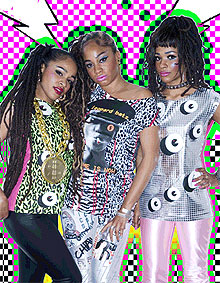 Important news for fans of bands fond of animated GIFs: The Real Heat have covered or remixed or basically just done 'something' to The Teenagers' 'Love No'.
To recap:
The Real Heat
Are three young ladies from Brixton. They have some good songs. They have 'attitude'. They are generally a very good thing. We had breakfast in their kitchen once and ate some melon.
The Teenagers
Are a 6/10 sort of indie synth trio whose album is half brilliant and half shit. The song The Real Heat have covered/remixed ('Love No') is from the half brilliant bit.
Anyway the cover/remix thing is all a bit lo-fi and haphazard but that's how things work in Real Heat world. You can download it on The Real Heat's MySpace but this is how a clip of it sounds.
[audio:loveno.mp3]
Except 'Love No' is not the new The Teenagers single — that chart­bust­ing honour goes to 'Make It Happen', which is also from the brilliant half of the band's album. This is the video.
httpv://www.youtube.com/watch?v=Lq1KXTDamms

Cheer up, lads, you're supposed to be popstars.
PS: CAN EVERYONE START USING THE TERM GIFPOP PLEASE CHEERS