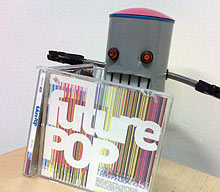 Let's have a little look.

1. Future Pop
This is an Australian double CD com­pil­a­tion album which EMI are putting out. It arrived in the office last week with a note from the guy who put it together, explain­ing — in news which literally redefines the term 'stating the obvious' — that he's a regular Popjustice reader. To see what he means click here for the tracklist (and to buy it if you like the look of it) — this is the best music com­pil­a­tion across any genre since the Popjustice one a year and a half ago and a brilliant explan­a­tion of why pop's pretty good right now.

2. Sam Sparro
Sam Sparro isn't on the Future Pop album but he would probably have been if they'd been putting it together now.

3. Annie
Having lived with the album for a while we can verify that it is VERY GOOD INDEED.

4. Alphabeat
Alphabeat haven't actually done anything in the last week or so to warrant a place at Number 4 but we forgot to take them out of the list. Perhaps if you think there is a popular musical artiste who deserves a place in the next PJ Almighty you should let us know.

5. Alesha Dixon
Recording new material. Probably quite good. The End.

666. Scouting For Girls
In the olden days, when pop music was great and indie music was shit, things were simple. These days pop music can be indie and indie music can be pop. Both can be good and both can be bad. Things are less simple. But if there is one band on 2008's musical landscape capable of somehow conjuring the impres­sion that ALL INDIE IS RUBBISH and that all pop music — even bad pop music — is better, it is Scouting For Girls. In their defence we seem to remember having a fairly pleasant chat on the phone with the singer a few months ago but, let's be honest, this is the worst combo in the history of popular beats.
'Ends.'