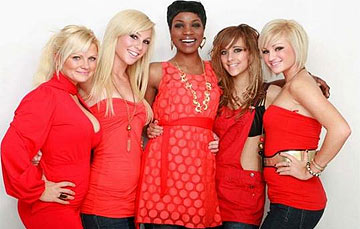 This is a new girlgroup (yes another one) called From Above. The members include Daisy from S Club 8 and some people who were on Dance X.
Anyway, here's their MySpace biography.
The name 'From Above' has been bought by a major global music man­age­ment company with a strong base in Los Angeles, who on their acquis­i­tion of Airomusic (current man­age­ment company) released all 5 members of 'From Above' from their contract.
After a strategy meeting with regards to current music trends and
industry require­ments, it was decided 'from above' would bring
cred­it­able melodic pop with an urban twist into a 5 piece harmony girl
group.
All 5 members would not only have to look super sexy
and be able to dance, but the vital ingredi­ent would be all 5 have to
be able to sing live harmony and not mime!
Bam music then
set about closed auditions for a select few from past and present music
industry. The auditions were held at the elite recording studios — Box
Clever, Soho Studios, and London, managed by Robin Axford
Once the 'potential' final 5 were selected, Hollywood Dance Academy and
top Pineapple Studio's UK cho­reo­grapher Mark Battershall put them
through their paces
From above are currently in the studio putting the finishes touches to their first track
…and so it continues.
What are the songs like? They're fine. Not bad. Not good. Fine.
If you're a fan of music which isn't par­tic­u­larly bad and isn't par­tic­u­larly good you can check out their MySpace page here and listen to some of their tunes. 'Amazing'. (Not amazing.)