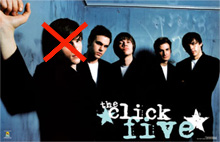 The Click Five, who you may remember we wrote a bit about last year, are launching in the UK. They're sup­port­ing McFly on their arena tour. (The Click Five are basically the American McFly — click here to watch the video for last year's 'Just The Girl'.)
We know the first one's not even out of the way yet, but you can listen to 90 seconds of Alesha Dixon's brilliant second single 'Knockdown' on her MySpace page: www.myspace.com/aleshamusic.
There's a great review of the Christrina album in today's Guardian. (Read online.)
Thank you to the British Hit Singles & Albums 'brigade' for the package of books and CDs and beermats and mugs.
The Bimbo Jones mixes of Pink's 'U + Ur Hand' are AMAZING.
Armand Deluxe spe­cial­ises in rave-up filter remix type songs. He's done a track for Popjustice viewers to download, using a sample from Moti Special's 'COld Days, Hot Night' (video here. It is really quite good, if you like that sort of thing. Download the MP3 by following the link at www.armanddeluxe.com.