This is Colette Carr.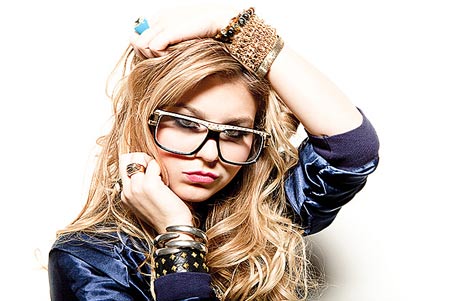 Look at her strangely-shaped spec­tacles and pouting lips. You want to know more about her, right? RIGHT.
Well she is a US warbler who is part of the Cherry Tree Records 'family', which means she was in a Far East Movement video, made an appear­ance in one of the Natalia Kills 'Love, Kills xx' things, has been recording with Space Cowboy, and has done some slightly rough around the edges pos­i­tion­ing stuff dating back some time. We suppose the result of all this is a kind of Natalia Kills/Ke$ha hybrid, boasting a lot of each artist's good bits and a handfull of each artist's bad bits. Overall she is a good thing, we think.
For her next single, has teamed up with Frankmusik. The single's called '(We Do It) Primo', it's got a Keane sample in it (!) and it's various types of brilliant.
What a corker.
Tragically, the otherwise pleasant-seeming Colette is also respons­ible for the worst artist website of all time. ("Atomic Kitten's first website is on the phone, it wants its UI back" etc etc.)