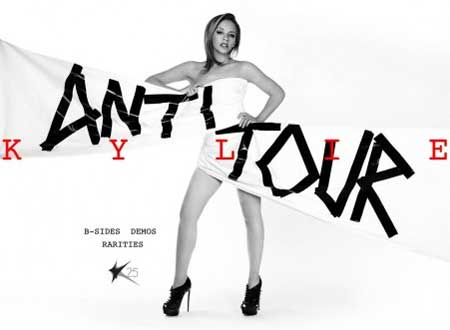 Kylie's just announced (after much teasing and faffing around Upon The Twitter) the first dates of her Anti tour.

Here are five of several million songs we'd like to see her performing.

1. 'Loving You', the Xenomania song that wasn't finished properly but still.

[youtube]WKDAiGAmjyc[/youtube]

2. 'Made In Heaven', the double a‑side that was never really given its chance to shine.

[youtube]P0Lscf6LSd8[/youtube]

3. The PROPER version of 'Falling', the properly actually incred­ible song the Pet Shop Boys gave her only for the chorus, structure and tune to be taken out in an act of pop barbarism so extreme that it is only now, all these years later, that we can confront and hopefully overcome the whole sorry debacle. Here's the Pet Shop Boys demo that Kylie shat on at the time.

[youtube]bhgOGIOAD2s[/youtube]

4. Something off 'Impossible Princess' to keep the mentals happy otherwise there will be a riot.

[youtube]jzw48wsP8bI[/youtube]

5. 'Especially For You' WITH JASE EVERY NIGHT.

[youtube]-MdeYdSWzGM[/youtube]

There you go. We're not asking much.