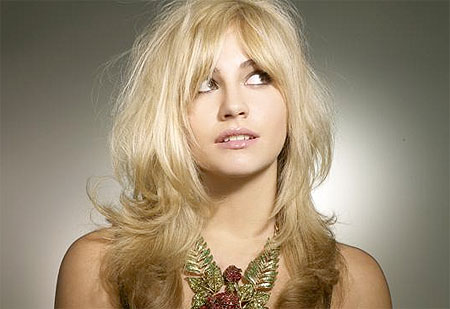 Last year, a few weeks before Christmas, we met up with new singer Pixie Lott* for a chat about this and that. We found out some quite inter­est­ing things about her (sadly some of these are top secret) and we saw her again at the Brits, too, except that meeting was sadly
less pro­duct­ive and amounted to little more than us shouting at her for
about a minute then stumbling off in search of booze. A terrible state of affairs, viewers. Terrible.
Anyway there was a good article on her in yesterday's Sunday Times — it's got the headline 'Next year's cover girl' and it's one of those blahdyb­lah intro­duc­tion pieces record labels and managers get very excited about. "But what about the music," you might be thinking. "I am prepared to invest no more time in an artist I have not heard of without listening to a thirty second clip of her debut single." That is a reas­on­able response.
This is Pixie's first single, 'Mama Do'.
[audio:mamado30.mp3]
Now we know that might just sound like she's this year's Cilmi but there's a VERY pop — like, early-2000s sort of pop — edge (or lack of) to some of her songs and if you give some of the tunes on her MySpace a quick spin you'll hear other styles coming through, too. All rather promising.
APPENDIX 1:
WHOLE LOTT HISTORY
»
Saw an ad in the stage.
»
Ended up with a manager, flying around the world on a series of exciting pop­musi­cu­lar adventures.
»
Almost signed with LA Reid but then didn't.
»
Ended up signing with Mercury Records.
»
Recorded some more songs with some more people.
» 'Et voila'.
APPENDIX 2:
FUTURE HEADLINES WE MAY OR MAY NOT USE (HELP YOURSELVES):
Lott In A Million Years
Whole Lotta Love
They Paved Paradise And Put Up A Singing Lott
Lott To Be Certain
Ready Or Lott
I Lott The Sheriff
That's Ya Lott
Lott In Herre
That's Lott My Name
Here Comes The Lottstepper
It's Lott Right But It's Okay
* Please note that this is not a real pixie as pixies do not, in fact, exist