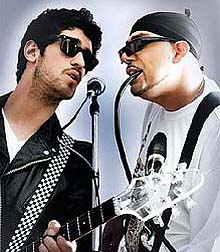 Something we left out of the interview we did with Dave 1 from Chromeo recently was the part when he told us that his heart lies in his work as a French teacher.
He is currently studying for a PhD and we left that out too because it was a bit 'edu­ca­tional'. Instead we restric­ted the interview to a series of opinions on the likes of Amy Winehouse, Britney and Kylie Minogue.
In case you would like some back­ground before we suggest you read the interview, Chromeo are a brilliant pop band whose 'Fancy Footwork' album is one of the year's most exciting and danceable col­lec­tions of tuneage.
The album is full of hit singles, although none of them have been hits and if we're honest none of them really will be. :(
httpv://www.youtube.com/watch?v=xew85L1xyC8