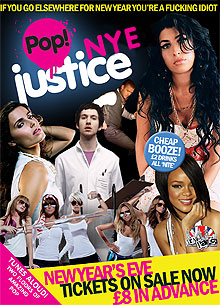 Hello there.
If you like having a bit of a drink* and a bit of a dance** we'd like to recommend Club Popjustice as an ideal venue for your New Year celebrations.
Tickets are EIGHT QUID (the same as last year — in your face, 'inflation') and there will be all sorts of free stuff and things on the night. You can get tickets by…
OPTION A
Going into Trash Palace and saying "hello there I would like to purchase some tickets for New Year's Eve, I hear it will be a lot of fun".
OPTION B

Clicking this button and buying online like wot they do in science fiction films and 'the future'.
Simple, yes? Yes.
* Popjustice encour­ages respons­ible drinking.
** Popjustice encour­ages irre­spons­ible dancing.