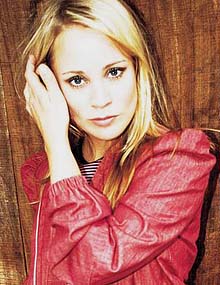 Well, everyone's very excited about Annie's new album.
It's been executive produced by Brian Higgins and as well as featuring pro­duc­tion from Xenomania also pulls in people like Alex Kapranos, Richard X, Girls Aloud and Annie's old chum Timo.
The first single will be 'Girlfriend', which you can hear at her MySpace .
It is about being friends with a boy whose girl­friend thinks there is something going on. (No smoke without fire, that's what we say.)
It might not be exactly what you were expecting given Annie's new col­lab­or­at­ors but a) it's brilliant 'n' hypnotic and finishes with a spec­tac­u­larly stupid ice cream van sound effect, and b) the rest of the album is very different indeed.
We would also like to inform you that Annie will be joining Alphabeat, Frankmusik, Leon Jean Marie, and Popjustice DJs on the Wonky Pop tour.
She'll be DJing at the London, Edinburgh, Glasgow, Manchester and Brighton dates.