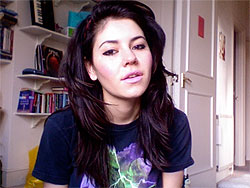 1. Erik Hassle
The label he has signed to for the puroses of being an inter­na­tional 'sensation' is Island so expect success of Sparro-esque pro­por­tions (except with a second and third single etc).
2. Del Marquis
The pleasant guitarist fella from Scissor Sisters is halfway into four EP releases; the second, 'Character Assassination', was released earlier this month and the next two ('Litter To Society' and 'Runaround') are amazing. We thought they would be shit because let's be honest who's inter­ested in a solo project from anyone except Nicola Roberts but they're seriously really good. We'll write some more about Del shortly but for the time being there's some more inform­a­tion here.
3. Marina & The Diamonds (pictured)
A photo of Dumper accom­pan­ies 'I Am Not A Robot' on her MySpace page. Also, she keeps posting MySpace pictures from her flat. From what she's posted already we have a fair idea of the flat's layout, meaning that with a com­bin­a­tion of MySpace and Google Street View — she foolishly gave us her postal address last month — we are now capable of carrying out a thorough burglary. Now all we need is some way of knowing when she's out of the country.
4. The Saturdays
From what we're hearing their second album us shaping up to be rather special…
5. Tesla Boy
Did them as Song Of The Day the other week. Still listening to their songs quite a lot. That's your lot.
666. Studio Audiences 'Clapping Along'
Dear People In Charge Of Television. When featuring musical guests please respond to anybody mor­on­ic­ally clapping along by ejecting the offending clappers from the studio. A good first step would be to get rid of all 'warmup men' as it is always their fault. Thank you. Popjustice. x
Anyone you'd like to see on the next Popjustice Almighty? Let us know…