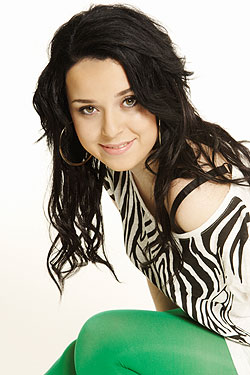 Dani Harmer is Britain's answer to (ie a rubbish version of) Miley Cyrus, and the Tracy Beaker actress recently signed a deal with Universal.
Dani is on the verge of releasing her debut single. The single is fairly mediocre and there are no other tunes for us to hear at the moment so if we were pushed to make any sort of pre­dic­tion about her debut album we'd probably have to guess that it'll be shit but, y'know, maybe something amazing will happen.
ANYWAY.
Take a look at the press release below. It's amazing.
We love this attempt to make a story out of nothing. We love the fact that Google, rather than Dani's inability to keep her address secret, is blamed for this. We love the utter stupidity of LITERALLY press releasing how easy it is to find this specific young female celebrity's address online. (Well, it's either monu­ment­ally stupid or acknow­ledge­ment that there is actually no threat what­so­ever.) We love how it takes a very valid concern about privacy and data pro­tec­tion, puts a stupid hat on it then sends it out onto the streets wearing a sandwich board reading 'RUBBISH DANI HARMER RECORD OUT SOON'. We love the last paragraph in which any attempt to pretend that this is anything other than a pathetic attempt to publicise a pop singer is spec­tac­u­larly jettisoned.
Brace yourself — this is a real work of art.

DANI'S HOUSE.
OUTRAGE AS GOOGLE'S SPY PRODUCT CLAIMS ITS FIRST CELEBRITY VICTIM.
A massive shockwave has been sent through Showbiz circles after it was reported today that Google's con­tro­ver­sial new Streetview applic­a­tion has claimed its first celebrity victim.
The celebrity in question is the most recog­niz­able teenage face in Britain, Dani Harmer who is best known for her hit role as Tracy Beaker on the CBBC and also her new primetime BBC 1 show which is aptly called Dani's house. Both shows were number one rated on CBBC.
Using Google's latest Streetview product, fans were able to access images of the star's home before widely dis­trib­ut­ing them on the Internet via fans forums and myspace.
Adored by millions of British kids, the star was left in a state of real unease when she was informed of what had happened. Her spokesman, James Wong said, "Dani abso­lutely adores her fans but was left totally freaked out when she saw pictures of her home whizzing around the internet. There is a privacy line here which surely has been crossed!"
This is just the latest episode in the ongoing invasion of privacy debate that has raged ever since the jug­ger­naut US search engine launched the con­tro­ver­sial applic­a­tion last Thursday. There have sub­sequently been hundreds of requests for images to be removed including members of the public leaving sex shops, kids running around naked at a picnic and a group of people being arrested which were all captured by its mapping system.
Dani, who last month signed one of the biggest record deals in UK music business history with Music giant Universal(Decca Records) has been advised to lodge a formal complaint with Britain's privacy watchdog, the Information commissioner's office. In the mean time, her man­age­ment has requested that Google remove the image from the service.
Her debut single appro­pri­ately called Free which is the theme tune to Dani's house will be released next month along with her debut album through Universal.
Well done, everybody.