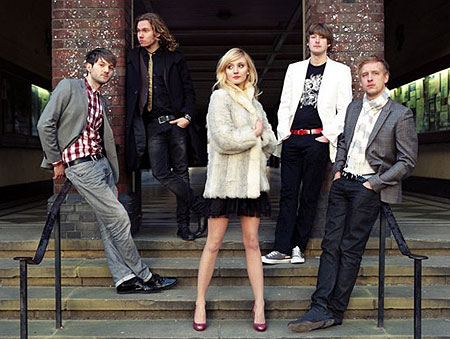 You might have noticed that we featured a track by Defend Moscow in our 'coveted' (hem hem) Song Of The Day spot last week. We quite like Defend Moscow — someone send us a couple of their songs last year and we liked the way they approached pop, so we've been keeping up with their MySpace as they continue to add bits.
That said, there was a slight sense of Haven't We Been Here A Few Times Before about the band so we thought that they could perhaps explain what they are all about. Here is what they sent us.
FIVE REASONS WE ARE AMAZING, BY DEFEND MOSCOW
1. We have a Norwegian, a Frenchman, two Englishmen and one Northerner in the band. That makes us offi­cially pan-European and ensures we have triple chance of entering the Eurovision Song Contest if we fancy it.

2. We have a song about two lovers seperated by The Berlin Wall. We're pretty sure no-one's done that before.

3. Our guitarist and bassist genuinely believe they are the rein­carn­a­tion of Chic's rhythm section (NB Nile Rodgers isn't dead yet so this doesn't hold up to any sort of scrutiny).

4. We love the Pet Shop Boys, and never stopped loving them even when no-one cared (a couple of years ago) and now everyone loves them again and frankly we find that a bit annoying.

5. We currently have not one but two disco tunes on our live set. The decadence!
B-.