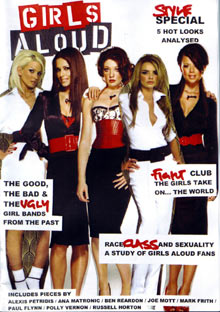 Remember that spooky Girls Aloud fanzine we wrote about before Christmas?
A few people on the Popjustice forums have asked whether they can see the whole thing and the answer is yes. Yes they can.
We've scanned it in and the link below contains all the pages in an easy to print off and reas­semble fashion.
If you missed our original story on the fanzine, it appeared as if by magic before Christmas and features Ana Matronic as well as various up-and-coming writers like Mark Frith, Paul Flynn, Alexis Petridis, Joe Mott (AHEM!!!), Polly Vernon and Ben Reardon.
It's quite good.