In our com­ment­ary on the 2010 Popjustice Readers' Poll we noted that Calvin Harris' tweets had become a little less fas­cin­at­ing than usual. The subtext was clear, readers: why cannot Calvin Harris' Twitter feed be as per­en­ni­ally LOL-packed as our own, with our frequent (and hilarious) bon mots and ref­er­ences to 'Bad Romance'? Why should it fall to Popjustice to be the best thing on Twitter? How is that fair?
Fortunately, there has been a recent upturn in Calvin's tweets, and this from today is par­tic­u­larly good.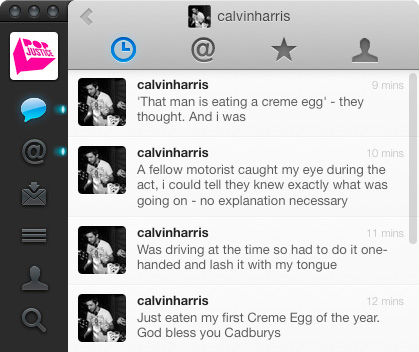 That is what you want from a recording artiste.
He's back ladies and gentlemen. Calvin Harris is BACK ON TWITTER.
What a relief.