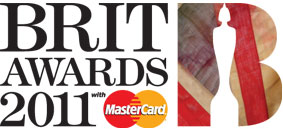 Some waffle about some awards whose short­l­ists are being announced this evening in the presence of Fearne Cotton and James Corden:
British Male Solo Artist
Example would be a good person to be nominated for this, although he is an example of an indie label making a success out of an artist a major label couldn't figure out so it might not be strictly 'on message' for the Brits, so Tinie Tempah is your man.
British Female Solo Artist
Does Florence count as a solo artist? We've lost track.

British Single Voted and supported by listeners of Capital Radio and users of iTunes
Pleasingly, as Radio 1 SMOTHER WITH LOVE the concept of 'new music', it falls to Capital Radio and users of iTunes to decide on the best single. This makes perfect sense, really — iTunes sell 'loadsa' singles, and Capital play them when they are hits.

British Breakthrough Act Voted and supported by Radio 1 listeners
Sadly for The Wanted, Radio 1 and not Capital are sup­port­ing this prize. We suppose this will go to Ellie Goulding, people seem to quite like her. She goes running you know. To keep fit. Running here and there, over yonder then back again. True story.
British Group
Fucking Mumford & Sons will no doubt be nominated here. Perhaps we should also be crossing our fingers for an N‑Dubz inclusion. Perhaps not. The xx should probably be in this list.

Critics Choice In asso­ci­ation with War Child
Despite the best efforts of music 'biz' taste­m­akey gate­keep­ers a gui­tarstep act has not won the Lady Singing In A Sort Of Alternative But Not Really That Alternative At All Sort Of Way award this year and Jessie J has stormed to victory. On one of the occasions when we wrote about Jessie last year we mentioned that Jessie reminded us of an artist whose name we would not reveal in case it scared people off a bit. We still do not feel that the time is right, but basically Jessie J is still amazing and her upcoming 'tunes' bear that out rather well.

MasterCard British Album of the Year Promoted by Daybreak and The Sun Bizarre column
We don't know will win this but any album voted by followers of Daybreak and Bizarre has to be brilliant. Mind you, Buble does not qualify for this category and Kasabian haven't had an album out, so it could be anything. (And by 'anything' we mean 'Take That'.)
British Producer
Stuart Price 'FTW'.
International Male Solo Artist
Eninem staged an impress­ive comeback and Michael Buble has charmed all ladies and most men but surely this is the time to shine for Mr JASON DERULO. Four amazing singles in one year and the most perfectly sculpted beard in pop.

International Female Solo Artist
We're not being funny right but Lady Gaga would be quite a good winner for this one, we think, although her last album is probably not eligible so let's just say that Robyn would not be the worst winner in the history of inter­na­tional female winners and Rihanna would also not be awful. Sia, Katy Perry and Nicki Minaj should be there too.

International Breakthrough Act Voted and supported by MTV
This would have to be Nadine Coyle whose excellent album 'Insatiable' redefined every single one of the myriad genres it explored. If not Nadine, Ke$ha.
International Album
We would like to see a nom­in­a­tion for Scissor Sisters here; Rihanna should also be in there. Robyn, Nicki and Music Go Music should be nominated as well.

International Group
LADY GAGA FEATURING BEYONCE.
The End.