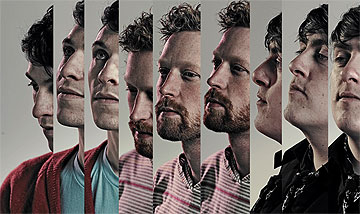 A band called Darlings Of The Splitscreen have just sent us (and pre­sum­ably every 'blog' on the face of the planet) an email con­tain­ing two of their quite amazing tracks.
One of them is called 'Hiroshima' (not a cover of the Westlife song) and the other is called 'Turn Around'.
You could file them alonside New Order and The Whip but they're basically Hot Chip so if you like Hot Chip you'll probably like Darlings Of The Splitscreen, who have an extra four syllables on the 'Ready For The Floor' hitmakers.
Clip one!
[audio:dots1.mp3]
Clip two!
[audio:dots2.mp3]
Here is what they say about themselves.
"Darlings of the splitscreen are a three piece from sheffield who are turning back the post-Monkeys guitar hordes using only some clapped out synths and a few hooks that Phil Oakey forgot to pick up from the cutlers. They are currently touring to sup­por­lat­est single "hiroshima", the debut release by Sheffield based razor records which has been selling well since it's limited vinyl release on may 5th. The single, produced by Dean Honer (I Monster/Add n to x/Roisin Murphy) is a bumpy ride through disco, electro and per­cuss­ive new wave and seeks to reconnect sheffield with it's past as the home of literate and eccentric elec­tronic pop."
In other words: literally very good. You can download both the tracks in full from DOTS's MySpace.