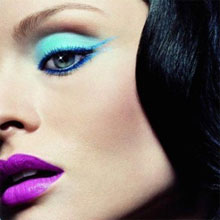 Sophie's posted two new songs on her MySpace page. These are from sessions for her acci­dental next album, which was supposed to be a greatest hits album until a) someone pre­sum­ably realised that it would sell seven copies, b) Sophie inad­vert­ently recorded a load of brilliant songs.
One of the new tracks is her version of 'Off & On', which is produced by Calvin Harris. The track's been doing the rounds online with a Roisin Murphy vocal. Sophie's is better, so maybe she can have a Top 19 hit with it seeing as Roisin clearly doesn't want one. (8.5/10)
The other is 'Heartbreak Make Me A Dancer', which was recorded with Biff and the Freemasons. It certainly has a '"Beautiful Liar" remix'-esque charm to it. Nice zapping noise. Songs set in nightclubs are always amazing. (8.5/10)
A solid 8.5/10 for her next album, then. Tell you what, let's round it up to a nine.