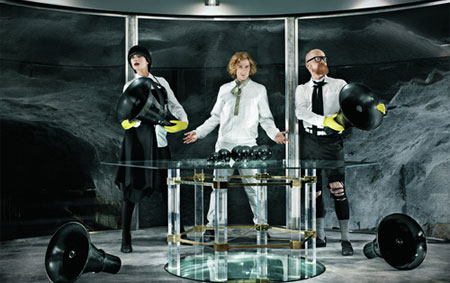 Every couple of years someone gets in touch with us and says something along the lines of 'Bodies Without Organs [or BWO as we now call them] are launching in the UK!!'. It's always with music that's been out for a few months elsewhere in Europe meaning that the band's small but dedicated group of UK fans has already bought and digested the music in question. Then Radio 2 will offer a sur­pris­ingly high level of support for the track despite wide­spread indif­fer­ence anywhere else. There will be some mentions in some of the free gay mags, then the single or album will get to about Number 62. 'The End.'
We met Alexander from BWO for breakfast when he was in London a few years ago, and when he
was dis­cuss­ing plans to launch the band in the UK we started trying to explain
to him what slight changes might give them a better chance
in what, at that point, was a fairly tough climate for pop. He was not inter­ested in listening and in fact started
talking over us about something else. At the time it seemed a bit
unusual — a bit rude, really — but as time's gone by the clarity of his
belief in BWO's vision seems pretty admirable. It certainly makes a
nice change in an industry where most artists are willing — desperate,
sometimes — to pull down their knickers, bend over and hope for the
best while the focus groups, the marketing con­sult­ants, the social
net­work­ing gurus and the out-of-control, 360°-obsessed brand extension
spe­cial­ists col­lect­ively shoot their wads wherever they please.
Well guess what — BWO had a new album out elsewhere in Europe a few months ago, which means they're ready to try another launch in the UK. The lead track here in the UK is 'Right Here, Right Now' — a former Popjustice Song Of The Day. Despite the band's self belief there is, this time, a slight con­ces­sion to The Way We Do Things Here; spe­cific­ally, as well as adding vocals from Swedish pop queen Velvet, they've also put a donk on it.
[audio:bwovvelvet.mp3]
In Britain's post-Agnes pop landscape — in which a handful of small labels seem capable of pulling off chart success with artists who three years ago wouldn't have got a sniff of the Top 30 — could this be a hit record? Watch this space — one imagines the Scott Mills pro­duc­tion team are being plugged morning, noon and night about this track. In the meantime two dates for your diaries: the single's out on August 31 with the album 'Big Science' to follow on September 14.