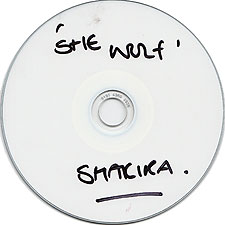 A lady from Shakira 's record label came to play us the big comeback single 'She Wolf' earlier this morning, then she left the building with the CD.
Fortunately we had secretly wired up our office with hundreds of high quality micro­phones, allowing us to bootleg the song — an MP3 of which we will put online later.
In the meantime, make do with the news that…
» It doesn't sound like anything Shakira has done before — it's a bit dancey and a bit elec­tronic with a quite organic disco feel — but even as an instru­mental there would still be a feeling that this is very much a Shakira-sounding track. We know a lot of people (including Shakira) are very pro­tect­ive of Shakira's sonic identity and we think they'll be satisfied that she's gone in a slightly new direction wiht this while keeping herself right in the centre of the mix. From this jumping off point the rest of the album could go in any direction — it's quite exciting.
» To under­score the 'a bit dancey' claim above: everyone report to the dance­floor, it's 125 beats per minute.
»
The chorus goes "there's a she wolf in the closet, open up and set it free (howling noise), there's a she wolf in the closet, let it out so it can breathe". To be abso­lutely clear on this, Shakira does indeed make a wolf noise. (Amazing.)
»
As opening lines about were­wolfism go, "a domest­ic­ated girl, that's all you ask of me — darling it is no joke, this is lyc­an­thropy" is up there with the best. Definitely in the Top 20.
»
The bridge has a slight feel of a song we won't name because if we do it might be inter­preted as some sort of statement that 'She Wolf' sounds like the song in question, which it doesn't. But it does sound a bit like the song we are thinking of. It also has a great lyric: "I've been devoting myself to you Monday to Monday and Friday to Friday, not getting enough retri­bu­tion reducing incentive to keep me at it."
»
Best line: "LIKE A COFFEE MACHINE IN AN OFFICE".
» There's a sort of har­mon­ised vocodered filtery "there's a she wolf in disguise,
coming out, coming out, coming out" bit at the beginning; there are
some brilliant Boney M 'Rasputin'-style strings near the end.
» Structurally the song's intro / vocodery­bit / verse / bridge / chorus / post­chorus / verse / bridge / chorus / vocodery­bit / Boney M‑style strings bit / tiny bit of chorus / sudden end.
» ONLY MAJOR FLAW: There isn't a bit where she goes 'Beyonce Beyonce' and then Beyonce comes and goes 'Shakira Shakira'. Gratuitous retread­ing of former glories fail.
» In summary: it's a new sound for Shakira but only Shakira could make a song like this and get away with it. Singers and songs often revolve in different spheres — sometimes seemingly reliant on whose A&R team is quickest to answer Ryan Tedder's emails — but 'She Wolf' rep­res­ents a bril­liantly tight bond between art and artist. It's fun and deranged, too, like pop music at its best sometimes needs to be.
In other news:
» Shakira has, appar­ently, gone 'platinum blonde' for this release.
We were joking about the boot­leg­ging-it-and-putting-it-online business by the way. That would be ridicu­lous — and illegal.