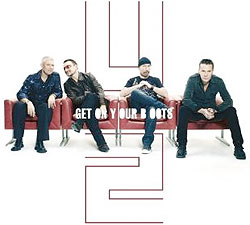 Yesterday, we asked why the U2 comeback single didn't make the Top 10, then dropped to 20 in its second week.
Obviously U2 are more of an albums act these days and obviously their fans might be more likely to go for a physical format instead of a download, but it still seemed odd to us that a comeback track from 'the biggest band on the planet' or whatever they're supposed to be couldn't make the Top 10.
Well, we got a lot of entries like…
It's shit.
…and…
The reasons Get On Your Boots didn't go top ten are:
a)It's really terrible
b)You can't even sing along to it.
ergo
i)No one likes it
ii)No one bought it
Hope this clears things up
Kind regards
…and…
A. It's really, really bad.
B. The intro is too much like the end credits of 'Only Fools and Horses'.
C. See A.
…and…
The new U2 single has flopped because:
A, Of the sheer arrogance and hubris of Bono, his messianic complex, his 'biggest band in the world' vanity.
B, Of the fact that the music is hyped as 'important', 'Meaningful' and full of 'substance' when, in fact, it's tired, cliche-ridden and essen­tially a re-tread of former glories.
C, The U2 marketing machine is aggress­ive, ubi­quit­ous and hell-bent on telling us that the new U2 album is a music 'event' and something essential to our lives. Perhaps we're tired of being ordered around in this way!
D, U2's per­form­ance at the brits was mediocre and try-hard, all sound and fury, sig­ni­fy­ing nothing.
Actually, Im a U2 fan and think they've made some really good stuff. But now I think they need to re-think the way their music is marketed because, in the end it's just guitar-driven pop. Its not art, not genius. It won't save the world! Sometimes these days it's not even that good.
…and…
I guess over the last week or so they just didn't have enough support from the BBC.
…and…
As a genuine U2 (and pop) fan, I think it's because a lot of their chart success on comeback singles relies on hype. Remember when "Vertigo" was supremely hyped before it premeired on radio and then before the video came out? This go around, U2 released the single to be streamed online on their website which was a much more low key approach. Also, it's not as "hook"-y or immediate as their usual "big" singles are. It's not quite as sonically "loud" as "Vertigo" or "Beautiful Day." Still a good, fun song, though. Also, the general public is much more concerned with shit songs like those of Taylor Swift as of late.
…and…
People wanted a mega-catchy 'stomper' like Vertigo or an anthemic 'Beautiful Day' or 'City Of Blinding Lights' and 'Get On Your Boots' is neither. It's like what happened with Kylie's '2 Hearts'. And nobody wants to hear 48 year old Bono singing about 'sexy boots' do they?
…and…
It's pre­sum­ably not gone top five cos it's the worst thing they've ever recorded and I'll include that Passengers album.
…and…
Is Neil McCormick on work experience?
.…but while all those sug­ges­tions make a sort of sense, none really seem to provide a proper answer. Clearly the single isn't going to go down in the history books as U2's greatest ever, but they always struck us as the sort of band who could record the sound of
Bono throwing a sausage roll into a bucket and, as long as it was 'new
material', still get into the Top 5.
Anyway, here's the nearest we got to a sat­is­fact­ory response.
Loads of reasons for the flop — the main one being hardly any radio airplay outside of Radio 1 and 2. Even though Starsailor are more relevant to both stations.
Sure, they're the biggest stations in the UK but to get any sort of longevity in the chart these days and a high impact first week you still need ILR on your side, and they weren't…mostly due to the fact that even 5 years ago U2 were one of the worst testing bands in listener music surveys (people seem mostly put off by Bono's holier than God persona when you ask them and can't get beyond that to even consider the tunes). Even lower testing than Natasha Bedingfield! Even when Vertigo was released the public really weren't that into them — it's been almost a decade since a U2 album sold over a million in the UK. Not even their Greatest Hits album a few years ago did as well as expected by the label.
The band survive simply because people want to hear those Joshua Tree tunes played live in the same way that the Stones have been irrel­ev­ant since about 1981 but still sell out gigs worldwide because of Satisfaction and Brown Sugar.
Still seems a bit odd. Whatever the reason for 'Get On Your Boots' not exactly setting the charts on fire the album's out this week and is miles ahead of everything else in the albums chart, as expected. A definite victory for great rock 'n' roll music.