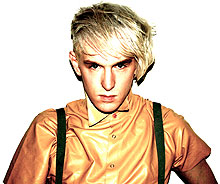 In one of 2008's less sur­pris­ing twists, Patrick Wolf parted company with his record label a few months ago and is now Going It Alone and Embracing The DIY Dream and all that sort of stuff. It's very fash­ion­able these days, we hear.
In case you haven't been following the story basically he's recorded his next album but needs money to release and market it, so he's joined the Bandstocks site and is trying to raise… £100,000. £100,000 is quite a lot of money. Most of the bands on Bandstocks just need a bit of cash here and there to get some CDs pressed up, or to buy a van or something.
We sent Patrick an email. "Are you really trying to raise £100,000?" we asked. "I really am!" he said. "I have to finance an inter­na­tional campaign!"
We're not sure if Patrick has grasped the finer point of this long tail business, and that is part of the reason he is and has always been brilliant.
Here's Patrick explain­ing what it's all about in his own inim­it­able style ('inim­it­able style' = 'style of someone you wouldn't really trust to look after a hundred grand'):
httpv://www.youtube.com/watch?v=YI5_f62q7Uc

Anyway, we have invested ten pounds in this project and will keep you posted on what happens. (You can sign up here and see what's happening, if you're inter­ested.) Our next step will be to ask Patrick what he intends to spend our ten pounds on and then, after that, to demand that he sends us a receipt or proof of purchase to show that he hasn't just spent it on novelty harp­si­chords because that, viewers, is always the danger with someone like Patrick Wolf. "Where is the money Patrick?" / "I swapped it for some magic beans and a whistle that makes a funny noise etc".