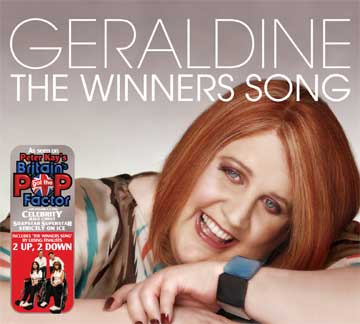 Last night's Britain's Got The Pop Factor And Possibly A New Celebrity Jesus Christ Soapstar Superstar Strictly On Ice — a mainly parody, occa­sional satire on X Factor, Pop Idol and 'all the rest' — featured Peter Kay's newest creation, Geraldine McQueen, winning the talent search and singing her debut single, 'The Winners Song'. The track's written by Kay with Gary Barlow.
[audio:geraldine.mp3]
Clearly, it's better than most genuine winners' songs.
Here's the full thing, complete with McManus-esque glitter cannon/mouth problems, before someone removes it from YouTube…
httpv://www.youtube.com/watch?v=VbWuewRlNeA

The single's available to download now at iTunes now. CLASSIC BARLOW.