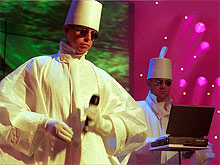 We're doing 'a thing' with the Pet Shop Boys next Tuesday and we would like to ask them some questions supplied by you, the Popjustice viewer.
If you would like to ask them something, send the thing in an email to [email protected].
Meanwhile, Neil Tennant has sen­sa­tion­ally 'spoken out' on the topic of Top Of The Pops being axed…
"We've felt that the BBC have gradually run down the show since the mid-90s, not trusting the chart-based format, moving it from its classic Thursday evening slot on BBC1 until it ended up on BBC2 with inev­it­ably smaller viewing figures. 'Top Of The Pops' is a world-famous name in music tele­vi­sion and it's a shame to see it disappear. Actually, it's worse than a shame, it's a mistake."
Watch some Pet Shop Boys TOTP appear­ances on YouTube: