Look, we don't know what this…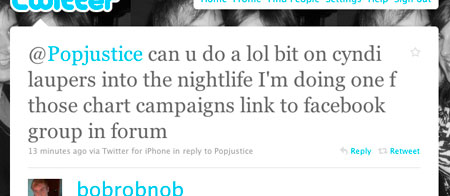 …means, but we love it for the fact that it's reminded us about two brilliant tunes from Cyndi's 2008 'Bring Ya To The Brink' album. Firstly, obviously, there's 'Into The Nightlife'. The video's slightly painful of course and the tune only really makes sense when you know about the chorus, but WHAT A CHORUS.

[youtube]bGHfpUB2MHY[/youtube] Then there's the Dragonette-'penned' tune 'Grab A Hold' which seemed just really pretty and cha­ris­matic and optim­ist­ic­ally sen­ti­mental in 2008 and brings an unex­pec­ted lump to the throat in 2010, too. [youtube]WPVdAiqBS4M[/youtube] There is a new Cyndi Lauper album out shortly. In the way that 'Into The Nightlife' was a 4thegayz theme album, so 'Memphis Blues' is pretty definite, almost to the point of cari­ca­ture, in its styling. Clips here if you really have nothing better to do with your time.